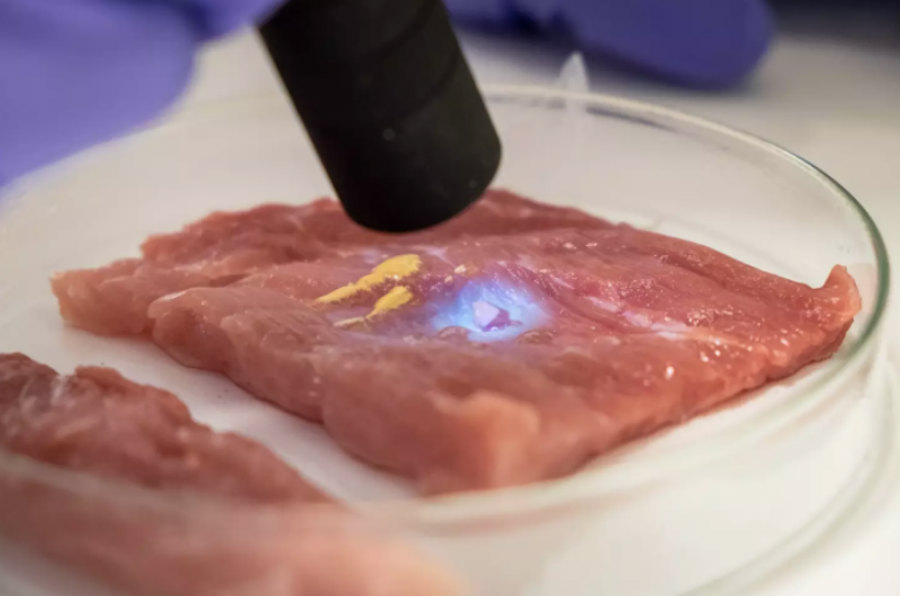 Scientists from the Nanyang Technological University (NTU) have come up with a novel "bio rubber adhesive" solution for closing wounds and joining blood vessels by reducing the surgery time by 25%. Named the "CaproGlu", it is said to be giving the patient a faster surgical recovery and a faster pain relief. 
This new type of surgical glue is activated by a little dose of Ultraviolet light which sees the liquid material transform into a flexible bio rubber. Then, in nano-scale level, CaproGlu creates very stable chain links with amino acids in the tissue. The transformation, in other words, the closing of the wound, happens in seconds. CaproGlu is a safe material that resorbs into the tissue in a matter of weeks reducing further clinical visits.
For joining blood vessels, a normal surgical procedure would use 8 stitches for better results. But in the study, the researchers used only four stitches and a mesh, covered in the liquid CaproGlu to do the same job better and faster. The wound healing was faster than the conventional surgery stitches. Scientists estimated that CaproGlu could save 25% of the surgery time by reducing the surgeon's time on closing wounds and blood vessels.
Researchers say the CaproGlu applied area could also be used as a pain relief medication, local anaesthetic or other types of drug-delivering platform both during and after the surgery. The study used animal models to test the work of CaproGlu.
What is CaproGlu made of?
It is made of two ingredients and does not require any additional ingredients to be used. First ingredient is a biodegradable polymer called, "polycaprolactone", certified by the USA Food and Drug Administration. The other one is a molecule called, "diazirine" which is activated by light which forms stronger bonds.
What is special about this glue?
Standard bioadhesives that are in use today would typically require two ingredients to be mixed whereas CaproGlu comes as one unit liquid that is ready to be used. And also CaproGlu could work well in wet environments inside the human body where others do not.
According to Professor Terry W.J. Steele, a lead authors of the paper, "To make our light-activated glue work on wet tissues, we engineered our glue to first remove water from the surface and thus allow adhesion to the dehydrated surfaces, this unique advantage of being able to bond with high strength in a wet environment, as well as being biocompatible, is what makes CaproGlu so suitable to be used in surgery and medical applications."
The adhesive strength of CaproGlu is 3-7 times higher than the standard commercially used surgical glues. And it is said to be similar to natural muscle tissue and collagen in strength.
Commercially used surgical glues normally contain protein, which is a significant issue when undergoing standard gamma sterilising procedures. This tends to destroy the proteins and create other issues. CaproGlu is free from proteins and does not have any issues with gamma sterilising and could be stored for months safely.
Currently waiting for patent approval, CaproGlu is under further research for its application on other types of biological organic surfaces like bones.
The research which was published in the journal, Elsevier's Biomaterials is a 5-year joint effort from NTU's material scientists and the Singapore General Hospital.