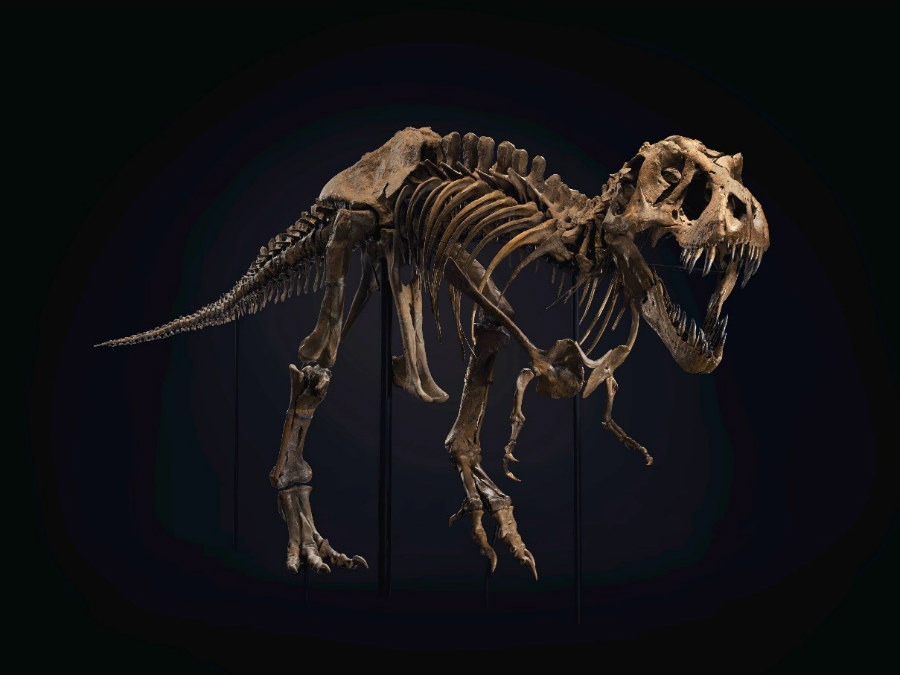 This is Stan, one of the most complete, largest and broadly studied Tyrannosaurus Rex skeletons. Stan had been a very popular exhibit at the Black Hills Institute in the USA for decades and it is now being listed to auctioned by Christie's the Art company.
Named after the palaeontologist who first discovered the skeleton in 1987, Stan is thought to be about 67 million years old. And it is now on display to go under the hammer on the 6th of October at Christie's Rockefeller centre. This majestic piece of history is expected to collect between a whopping 6-8 million US$.
"We are honoured to be bringing STAN to auction and to have been entrusted with the stewardship of such an iconic and important T. rex. I'll never forget the moment I came face to face with him for the first time, after his remount in Colorado – he looked even larger and more ferocious than I'd imagined, a specimen that only further establishes the T. rex's position as the King of Dinosaurs," says, James Hyslop the Head of Department, Scientific Instruments, Globes & Natural History at Christie's.
Anyone who would like to have a look at the mighty Stan before someone takes it away to keep in their luxury private collection, now is the chance as it is being displayed 24 hours from the 16th of September to 21st of October at Christie's massive gallery at Manhattan.
Stan the mighty T-rex
The length of the skeleton is 40-feet long with a 13-feet height. The skeleton has 188 original bones making it one of the most complete dinosaur skeletons of all time. With teeth as long as 11 inches, Its eyes are said to be the size of 2 baseballs. One of its rib bones has a puncture wound which is believed to be caused by another T-rex.
There are more than 50 T-rex skeletons have been unearthed since 1902. But Stan holds a celebrity status among dinosaur skeletons in the world and has been on overseas tours as well, with cast replicas of it present in many countries.